Can I Buy Senior Cruise Travel Insurance? - 2023 Review
Many member organizations such as AAA offer a travel insurance product for trips booked through their member site. However, many of these member travel insurance programs are very expensive, with poor benefits.
AARP takes a different approach.
Travel Insurance Advice
We advise travelers to follow these simple guidelines:
Don't buy travel insurance from tour operators, cruise line reps or travel agents.
Go to an online travel insurance broker (such as CruiseInsurance101*), who sell coverage from many providers. You can pick and choose to buy trip insurance depending on your trip needs. Differentiating factors such as destination, trip cost and age will all impact insurance prices. In general, travel insurance should cost between 4% and 8% of your total trip cost.
Don't wait too long to buy travel insurance. You can buy trip insurance up until the day before you depart, but insurers often include specific benefits, such as coverage for pre-existing medical conditions and cancel for any reason, if you purchase your policy within one or two weeks of your initial trip deposit. (We refer to this at CruiseInsurance101 as the 'Time-Sensitive Period'.)
Pay attention to the 'Free-Look Period'. This is a review period (usually 10-15 days from purchase) where you can cancel the policy for a premium refund if you don't want to keep the policy.
Read your travel insurance policy document. Speak to an insurance agent, if necessary, before you buy. Consider if there are any specific scenarios that you wish to protect for, then make sure that this scenario is covered by the coverage within the policy. Note that comprehensive policies should always include emergency assistance services prior to and during your trip.
Trip cancellation is often a concern that people have before travel, so make sure that the cancellation reason you are concerned about is covered. If not, a more expensive policy that incorporates 'Cancel for Any Reason' (often abbreviated to 'CFAR') coverage may well be your best option. These offer a 50% - 75% refund, depending on the policy chosen, and offer maximum flexibility to cancel, without any reason at all. A Cancel for Any Reason benefit is time-sensitive, so, a member would need to buy a CFAR policy within 10-21 days (depending on the policy) from the initial trip payment or deposit. Moreover, they would need to insure all the non-refundable costs of their trip. Finally, they would need to cancel their trip at least 48 hours before the planned start of the trip if the reason for cancellation was not listed in the policy.
AAA Travel Insurance – An Alternative Approach
AAA has elected to work with Allianz and will only promote Allianz travel insurance products. This lack of competition inevitably leads to higher prices and weaker coverage for the member. Although Allianz is an excellent travel insurer and has quality assistance programs, they tend to be expensive when compared against that wider travel insurance market. It is always better to shop around to get a range of travel insurance quotes for your trip.
Let's run a sample quote and compare the two options.
Our Travel Insurance vs AAA Travel Insurance
For our sample trip, we have two travelers aged 65 going to Costa Rica from 12/30 – 1/14 with a $3,000 trip cost.
Heading over to the AAA website, we're immediately pushed to an Allianz screen to get their travel insurance quote: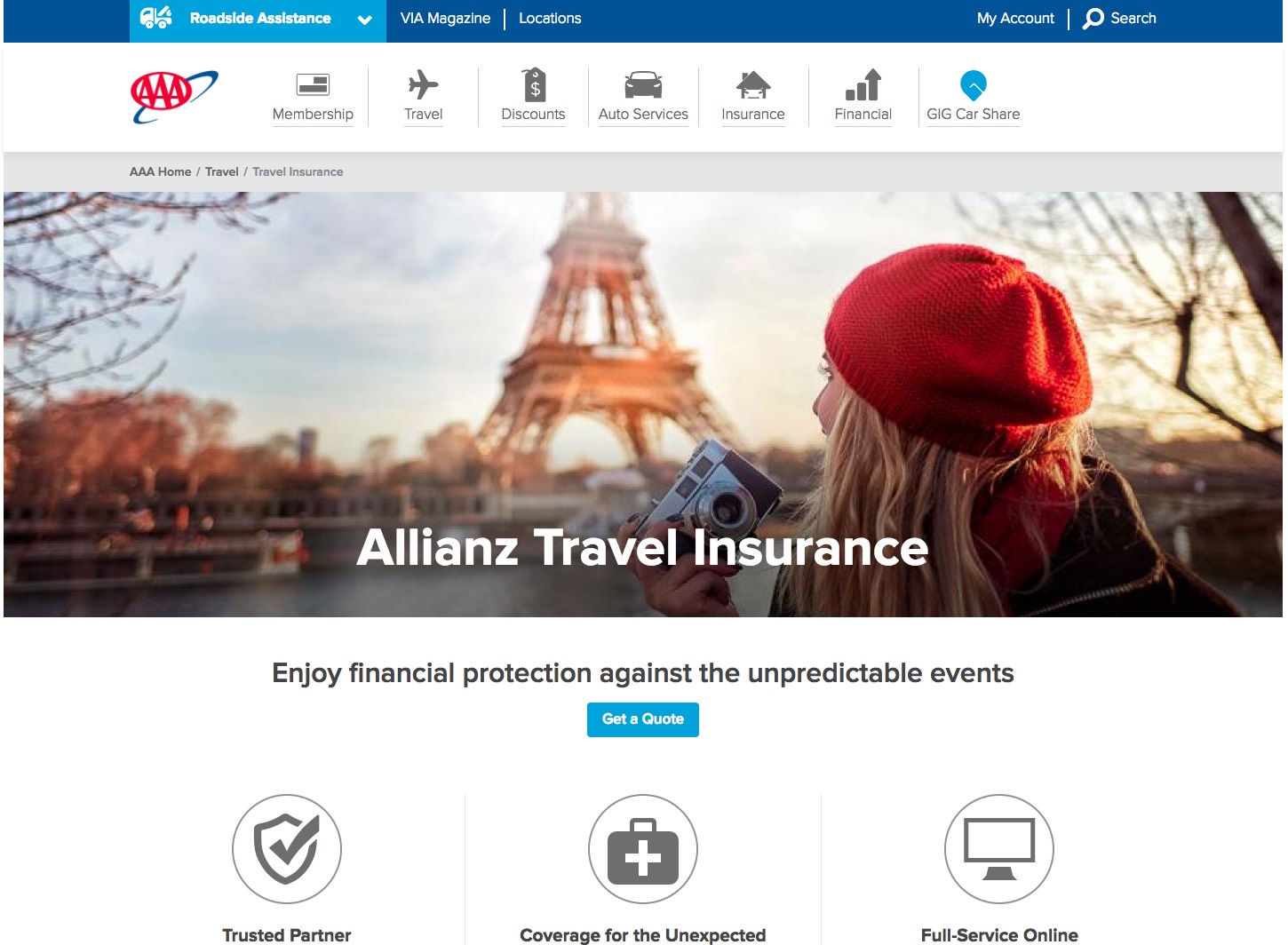 As we can see from our quote, every product that a AAA customer gets to choose from is Allianz-supplied: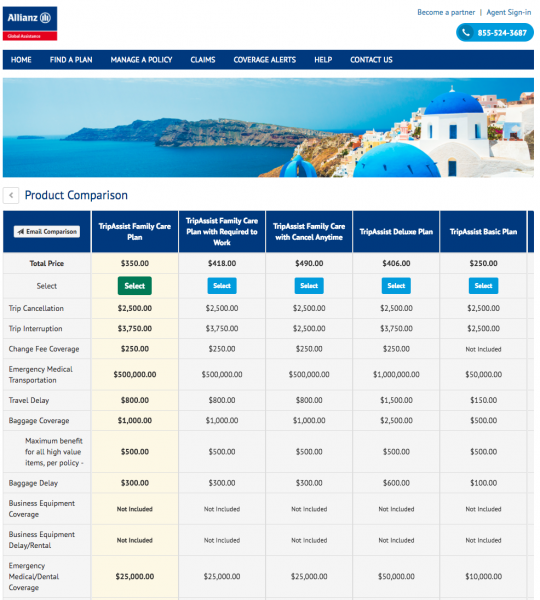 The least expensive plan is the TripAssist Basic for $250. The recommended plan it the TripAssist Family Care Plan for $350, while the most expensive is the TripAssist Family Care Plan with Cancel Anytime for $490.
In each case they only pay $2500 for trip cancellation, even though our sample trip was $3,000. The Basic plan only provides $10,000 of medical coverage while the Family Care Plans will cover up to $25,000. For medical evacuation, the Basic pays $50,000, the Family Care Plans pay $500,000 and the Deluxe Plan doubles that to $1 million.
However, with no way of comparing the Allianz products against another travel insurer, it is impossible to see whether good value for money is offered with these plans.
The CDC strongly advises that travelers going overseas buy travel medical insurance. The costs of a prolonged stay in an overseas hospital could be financially disastrous, unless properly insured.
CruiseInsurance101 recommends when traveling outside the US that travelers carry a minimum of $100k of travel medical insurance and a minimum of $250k of medical evacuation coverage. Arguably, a policy that offers less than this should only be considered by those who have alternative medical insurance coverage that could support them overseas.
Medicare and Medicaid do not cover you once you leave the USA. The U.S. State Department will not support your medical expenses either.
Looking at the policies in our AAA quote, all policies provide inadequate medical insurance - $10k on their Basic Plan and $25k on the Family Care Plans and $50k on the Deluxe Plan. This simply is not sufficient coverage for us to be comfortable recommending.
Travel Insurance
Let's contrast our Travel Insurance approach with AAA's.
We suggests that a travel insurance customer should shop around, via a travel insurance marketplace, to compare quotes and coverage levels. Luckily, that is exactly what we do at CruiseInsurance101.
Here is the same trip that we ran through our system. It took less than one minute to generate the quote options. All details were passed to our insurers anonymously.
Here is what happens when travel insurance carriers get to compete with one another – the customer wins. Our customer was able to compare 27 different plans, with varying levels of coverage and cost. As always, plans are shown with the least expensive first. There is no desire to oversell to a customer coverage that they do not need. Travel insurance for seniors is available from all our carriers. We have travelers in their late 90's still exploring the world and doing so having compared travel insurance rates with us.
The least expensive plan with at least the minimum recommended coverage of $100k of medical coverage and $250k of medical evacuation coverage and also includes a waiver of any pre-existing medical conditions is the Trawick First Class for $191.46.
It is one of our most popular trip insurance plans for international travel.
The plan provides $150k of medical coverage and $1 million of medical evacuation coverage and a waiver of any pre-existing medical conditions if the policy is purchased within 14 days of the initial trip payment or deposit date.
Look at the powerful benefits available to a customer.
Trawick First Class
Standard Cancellation Benefit
Covered Cancellation: 100% refund
Medical Benefits
Medical Cover: Secondary
Medical Sickness: $150,000
Medical Evacuation: $1,000,000
Free Look Period: 10 days
Extra Cancellation Benefit
Cancel for Work Reason: N/A
Cancel for Any Reason: N/A
Time-Sensitive Period: 14 days
Pre-Existing Condition Benefit
Look-Back Period: 60 days
Waiver of Look-Back: Yes
Time-Sensitive Period: 14 days
A.M. Best Rating: A
Note that at $191.46, this is an excellent value for our AARP member. Remember, the cheapest AAA plan was the Basic for $250 with only $10,000 of medical coverage and $50,000 of medical evacuation coverage. The Trawick First Class provides 15x the medical coverage and 20x the medical evacuation coverage of the AAA's Allianz Basic plan!
AARP is offering powerful advice to its members to shop the marketplace for travel insurance and should be commended. Savings on travel insurance are best obtained when comparing the market. There is always a huge variation in pricing between similar policies offered by different travel insurance carriers.
Primary medical coverage is our preferred type of coverage as it ensures that our travel insurer takes immediate responsibility for any medical invoices that may arise. We don't have to worry about out-of-pocket expenses or getting reimbursed for medical costs. Our primary travel health insurance can sometimes even pick up these costs to take away the financial burden from us.
Though the Trawick policy is Secondary Medical Coverage, if our travelers only have Medicare as their US health insurance, and no other coverage that will work outside the US, the Trawick policy will convert to a primary policy as there is no other insurance our travelers have that will cover them outside the US.
We also appreciate the strong Pre-Existing Medical Condition Exclusion Waiver on this policy, and know from experience how important this can be to senior travelers. To qualify for the waiver, the Trawick policy must be purchased within 14 days of the initial trip deposit.
Overseas Cruises
Obtaining a medical waiver is particularly important for travelers when booking a cruise. Often, cruises are booked a long time ahead, typically with a small deposit. As soon as the deposit is made is the time to buy cruise travel insurance. You need only insure the deposit that you have paid for your cruise, and then add trip costs to the travel insurance as you make subsequent payments towards the cruise. Booking your insurance within a week or two of your initial cruise payment ensures that the medical waiver is in place, supporting you before your cruise and during the trip itself.
Car Rental Waiver Coverage
Car rental insurance is included in only a handful of the more expensive travel insurance plans. Car rental coverage can be obtained as a supplement in many policies, but we do not recommend it. The cost of this supplemental car rental waiver coverage with your trip insurer is going to be very similar to the price that you see from your car rental company. This is one of those times where it is probably easier and simpler to take the coverage that someone like Hertz or Avis offers you. The price will be similar and the claim process immediate.
Lost and Delayed Baggage
Nothing can be more frustrating than when an airline loses baggage, particularly at the start of a long trip. Every comprehensive trip insurance policy will have coverage to help you when luggage is lost or delayed. However, we can all help ourselves to minimize the risk of baggage loss. Always place your name, address, and telephone number inside each checked baggage item. If the baggage tag is ripped from the case, the airline will be able to track you once they have opened the bag. If heading on a cruise, keep a note inside each bag of the cruise line and cruise ship - again the airline will do everything it can to reunite baggage with passengers. Consider splitting up contents between packed cases. If a couple are traveling, then the temptation is to pack one case each. Splitting baggage contents between different cases ensures that if a case is lost, both travelers will at least have something to work with. Many of us also try to take a carry-on aboard an aircraft to ensure that there are basic supplies with us if a case is lost. This can also be helpful in case of an overnight hotel stay due to an aircraft delay.
Connecting flights can cause baggage loss or delay as well. Check with your airline to see if direct flights are available. Finally, of course, it is preferable to arrive with time to spare. If a bag is lost but you have a day or so in Miami before the cruise embarks, you have a much better chance of having baggage meet up with you prior to sailing.
Hurricane Protection and NOAA Warnings
For those of us who cruise, hurricanes are part of life, particularly during 'Hurricane Season'. All travel policies will incorporate coverage language that offers reimbursement if your destination is destroyed due to natural disasters. This includes hurricanes. But many policies also provide coverage to let you cancel if a hurricane is predicted. Here is the language from the IMG iTravelInsured Travel SE Policy that we referred to earlier.
'..a cancellation of Your Trip within twenty-four (24) hours of Your Scheduled Departure Date and time if Your Trip destination is under a hurricane warning issued by the NOAA National Hurricane Center, provided the cancellation of Your Trip occurs more than fourteen (14) days following Your Effective Date of coverage for Your Trip Cancellation Benefits..'
In other words, if you have had your travel insurance policy in place for at least 14 days, and then your destination comes under NOAA hurricane warning within a day of your planned departure, you may cancel and claim a 100% refund from the insurer. We think that this is an incredibly useful benefit that is extend to those who book trips to the Caribbean, and other hurricane-prone areas.
Other Travel Insurance Options – Airlines and Expedia
Travelers will frequently be offered travel insurance when they buy their flights online.
Most airlines offer a variant of the expensive Allianz Travel Insurance that AAA offers its members. Be aware of this – it is better to shop around.
Insurance offered by Expedia should also be avoided. It is expensive, with low levels of coverage that could leave travelers woefully underinsured in the event of an emergency. Please think very carefully before signing up for such a policy.
International Airline Travel Insurance
Many international airlines, such as British Airways do not offer travel insurance to US-based customers nor do they offer travel insurance advice. As travel insurance is highly recommended when traveling internationally, please consider purchasing a policy when leaving the USA.
Benefits to Look For in Travel Insurance
There are four primary benefits that most customers need to see in any comprehensive travel insurance policy.
Basic Cancellation Protection
Basic cancellation benefits are embedded in every comprehensive policy you see when you compare trip insurance with us.
You will get a 100% refund if the following occurs PRIOR to departure:
Accident, illness, or death of you, a traveling partner, business partner, or family member
Jury duty
Legal appearance
Traffic accident en route to airport
Death or hospitalization of your host at your travel destination
Weather
Job loss
Bankruptcy of your travel provider
Cancel for Work Reasons Travel Insurance
Many senior travelers are still employed. Cancel for Work Reasons cancellation protection, offered in many CruiseInsurance101 policies, will assist a traveler who is laid off from a job that they have worked in for at least a year. It will also protect you if previously agreed-upon vacation is cancelled by your employer or if you are self-employed and must cancel travel plans for work reasons.
If this is an important consideration, be sure the policy you choose has this benefit included.
Even though work cancellation protections will be included in certain policies, there is not an additional premium paid for this benefit if included in the policy – it just comes with the other policy benefits whether needed or not.
Cancel for Any Reason (CFAR) Travel Insurance
As discussed earlier in this article, 'Cancel for Any Reason' travel insurance provides the most flexible option for cancellation and reimbursement. It allows the traveler to cancel for any non-listed reason and still receive either a 50% or a 75% refund of trip costs depending on the CFAR policy chosen. The coverage needs to be put in place within 10 - 21 days (depending on policy) from the initial trip payment or deposit.
These policies provide maximum cancellation flexibility and should be strongly considered if a traveler anticipates needing to cancel for a non-listed reason.
Looking at our quote from CruiseInsurance101, the least expensive Cancel For Any Reason policy is the Travel Insured Worldwide Trip Protector (CFAR 75%) for $288.
The policy provides $100k of medical coverage and $1 million of medical evacuation coverage as well as a waiver to cover pre-existing medical conditions if the policy is purchased within 21 days of the initial trip payment or deposit.
With significantly better overall coverage that the CFAR policy offered by Allianz, it's also significantly cheaper! The Allianz TripAssist Family Care Cancel Anytime policy is $490 while the Travel Insured policy is only $288 – half the price!
Travel Health Insurance
Even when traveling within the USA, health care costs can be high. Many of us have health insurance that will work from state-to-state, but we still have high co-pays and deductibles to worry about. In this case, 'Secondary' travel health Insurance can pick up those costs, leaving a traveler without any expense at all. International travel health insurance is critical - please make sure you have robust levels of coverage in case the worst were to occur. Medicare offers no support outside the US, and even Medigap benefits are limited.
We advise for domestic travel having at least $15k of medical coverage and for foreign travel having no less than $100k, per person.
Still, many travelers prefer to take a 'Primary' coverage policy so they do not need to involve their US health insurance at all and let the travel insurance pick up any emergency health care costs when traveling in the USA.
When traveling internationally, check to see if your domestic health insurance will cover you outside the US. Most do not. As international private hospitals often charge $3k to $4k per day, strong medical coverage is a necessity.
Remember, just because you are visiting a country with domestic public health care, you will invariably not be eligible for it. Citizens of countries with subsidized or free health care like Canada, Mexico and most of Europe pay for these benefits. But, as a visitor, you will not be eligible for free health care. Make sure you have travel medical coverage in place before you travel.
International Travel Insurance – Medical Evacuation
If seriously injured, a medical evacuation may be necessary. We have seen this cost well over $100k when private jet transport is involved. Let the travel insurance pick this cost up if required.
When looking at travel insurance rates, aim for no less than $250k of medical evacuation coverage if staying close to home. If heading further afield, an emergency medical evacuation benefit of $500k or more would be advisable.
US Travel Insurance Carriers
At CruiseInsurance101 we provide plans from some of the best travel insurers in the industry. Every one of our carriers must have an A.M. Best rating of at least an 'A'. Each will have a strong Emergency Assistance team to support you 24/7 wherever you are in the world.
CruiseInsurance101 Leading Travel Insurance
Give us one minute of your time so we can collect a few pieces of trip information. This is passed anonymously to our travel insurance carriers. They will provide you with their insurance plans and rates to review. You can compare all of them on one screen to make a fair comparison easy. The least expensive travel insurance with adequate coverage will be visible at the top of the page – we will always try to show best value.
You will not find the same travel insurance plan at a lower price. Anti-discrimination legislation in the US gives you significant protection. The price you see from us is the price you would see if you went directly to the insurer's website for a quote. Although travel insurance discounts do not exist, by law, the best value is achieved by comparing the travel insurance market.
Senior travelers will not find it difficult to find good travel insurance. To get the best value for your money, visit CruiseInsurance101 first to shop around before committing to the first travel insurance policy you find. Please stop by and chat, send an email, or give us a call at +1(786) 751-298.
Safe travels!
Recent AARDY Travel Insurance Customer Reviews
Valued Customer
Nicole was very helpful
Nicole was very helpful. She answered all my questions and even pointed out some areas that I needed to be aware of. The whole process took less than 10 minutes
---
Cindy Pritchard
All of my questions were answered so…
All of my questions were answered so well George was so patient with all I asked. Would never hesitate to call him again.
---
Ghard
Glad I called
This was my first experience booking a cruise. Since I didn't know anything about insurance, I had a lot of questions! Miranda was well spoken and explained all the important information about the insurance coverage for my cruise. She used examples to illustrate why I might need coverage. She was easy to understand.