EVA Air Travel Insurance - 2023 Review
EVA Air Travel Insurance
Strengths
Insurance Not Provided – Travelers Can Shop The Open Marketplace
Weaknesses
Insurance Suggestions Not Offered
Sharing is caring!
EVA Airways, "EVA" stands for Evergreen Airways, is a Taiwanese international airline based at Taoyuan International Airport near Taipei, Taiwan, operating passenger and dedicated cargo services to over 40 international destinations in Asia, Australia, Europe, and North America.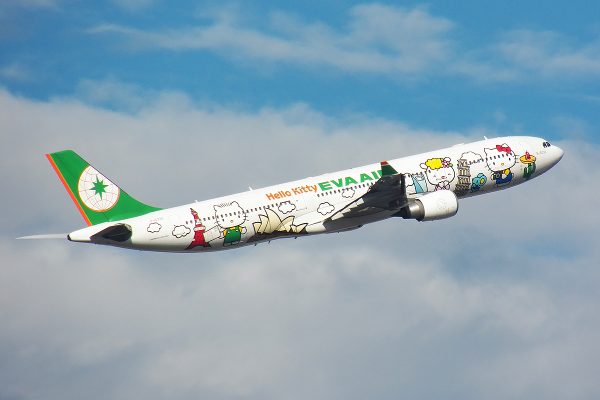 Travel insurance is not offered to US customers booking flights on EVA Air from the US. That's good news – we can shop the open marketplace for travel insurance and find great options instead.
Our Sample Trip – Los Angeles to Bangkok, Thailand
For our sample trip, we booked a trip from Los Angeles to Bangkok, Thailand from December 9 – December 30 for two travelers.
The EVA Air website is easy to navigate, and after choosing our travel dates, number of travelers and fare category, the site displays the available flights, fare categories and pricing:
There weren't many fare options for our departure date, so we settled for Economy.
When choosing the fare, the details of that fare, including mileage earned, penalty fees and change fees are shown:
After choosing our return flight and fare (also Economy) as well as seats, our total trip cost for both travelers came to $4,816.65, which included taxes, surcharges, and fees.
Now let's see what we can find for travel insurance in the open marketplace through CruiseInsurance101.
CruiseInsurance101 – The Travel Insurance Marketplace
Inputting our trip details into the quoting system at CruiseInsurance101, we're presented with 27 options to choose from.
With so many options, what would be the best policy to choose?
CruiseInsurance101 recommends having a minimum of $100,000 of medical coverage and $500,000 of medical evacuation coverage for travel to Asia and points beyond.
The least expensive plan with adequate medical coverage is the Trawick First Class for $273.28 which is the total cost for both travelers combined.
The policy provides $150,000 of medical coverage and $1 million of medical evacuation coverage as well as trip cancellation, trip interruption, and baggage coverage. If we need to cancel prior to departure for a reason listed in the policy, such as illness or injury, we will receive a 100% refund of our trip costs.
But what if we want maximum flexibility to cancel for ANY reason? Do we have any options?
The answer is YES! A Cancel For Any Reason (CFAR) policy will provide maximum cancellation flexibility.
Cancel For Any Reason (CFAR) Policies
For maximum cancellation flexibility, a Cancel for Any Reason (CFAR) policy is a great option.
This is a super-powerful benefit that does exactly what it says. A traveler needs to have no reason at all to cancel and still receive a significant refund. The policies that we have can provide either a 50% or a 75% refund depending on the policy chosen.
Looking at our quote from CruiseInsurance101, the least expensive CFAR policy with adequate coverage is the Trawick First Class (CFAR 75%). This policy provides the same benefits we saw above but adds the Cancel For Any Reason benefit as well if we purchase the policy within 10 days of the initial trip payment or deposit date. Total cost for both travelers combined is $464.58.
If we had to cancel for a listed reason in the policy such as an illness, we'd receive 100% of the non-refundable trip cost. However, if we cancel for a reason NOT listed in the policy, such as simply deciding we don't want to go, the policy will refund us 75% of the trip cost.
EVA Air Travel Insurance - Flight Hack
If you want to save even more money on your flights than you can on a comparison site, check out the CruiseInsurance101 Flight Hack. We have a whole article on this great travel tip on our website, but here's the short version:
Never buy a refundable ticket again. Buy a non-refundable ticket and get yourself travel insurance with a cancel for any reason benefit from CruiseInsurance101.
You will get nearly the same flexibility plus a comprehensive insurance plan, plus you will save hundreds of dollars on your flights. Refundable benefits, yet with non-refundable tickets!
CruiseInsurance101 – One Site – Many Carriers
Think of us at CruiseInsurance101 as Amazon for travel insurance. Comparison shopping is easy. At CruiseInsurance101 we make comparing travel insurance easy. You do not need to go to every carrier. At CruiseInsurance101 we provide binding quotes from our carries and present them in an easy-to-read format. The beauty of insurance comparison is you get to see all the best prices in the market.
Does CruiseInsurance101 Charge More?
You won't find the same trip insurance plans available at a better price – price certainty is guaranteed because of anti-discriminatory insurance law in the US. This is really powerful consumer protection.
A travel insurance marketplace like CruiseInsurance101 will offer a multitude of different plans from some of the most respected travel insurance carriers in the country. You will only need a few minutes to check value for money, coverage, and insurance carrier ratings.
Enjoy your next trip on EVA AIR and remember to pack your travel insurance.
Safe travels!
Recent AARDY Travel Insurance Customer Reviews
customer Diane
A young lady name Christiana
A young lady name Christiana, CHRISTIANNA was who helped me she was extremely pleasant, helpful. It was extremely helpful to me to speak to an American who understood English and annunciated English very well thank you.
---
Mian Khan
Always good for travel anywhere...
Always good for travel anywhere...
---
Lisa Rupe
Excellent Customer Service!!
I spoke to Sylvia on the chat and she was able to assist me and answer any questions I had and then she was able to have Miranda call me promptly and go over policy with me and I was able to purchase what I needed. The whole process went easy and smoothly.