Emergency Medical Evacuation Travel Insurance - 2023 Review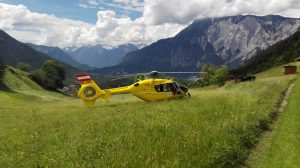 In this article, look at the different types of Emergency Medical Evacuation travel insurance. You'll learn the different ways they work, the limits offered by the insurance companies, and what to look for when comparing travel insurance plans.
What is Emergency Medical Evacuation?
Emergency Medical Evacuation is a medical transportation benefit included in travel insurance plans.
Comprehensive trip insurance plans include a complete package of benefits like Emergency Medical Treatment, Emergency Medical Evacuation, Trip Cancellation, Trip Interruption, baggage loss or damage, baggage delay, and trip delay. You will find Emergency Medical Evacuation listed between $100,000 to $1,000,000 per traveler, depending on the policy you choose.
Travel medical plans include Medical Insurance and Emergency Medical Evacuation, baggage loss and travel delay, but offer no Cancellation and Interruption protection. As such, they have lower prices, since Cancellation and Interruption make up the bulk of the cost of Comprehensive plans.
What does Emergency Medical Evacuation do?
Each trip insurance policy defines Emergency Medical Evacuation slightly differently, but generally, work like this:
 (a)Transportation from the place where the Insured is Injured or sick to the nearest adequate licensed medical facility where appropriate medical treatment can be obtained; and/or
(b)Transportation from a local medical facility to the nearest adequate licensed medical facility to obtain appropriate medical treatment if the onsite attending Physician certifies that additional Medically Necessary treatment is needed but not locally available; and the Insured is medically able to travel; and/or
(c)Transportation to the adequate licensed medical facility nearest the Insured's home to obtain further medical treatment or to recover, after being treated at a local licensed medical facility, and the onsite attending Physician determines that the Insured is medically able to be transported.
Emergency medical evacuation is a physician-ordered Transportation Expense which is arranged and approved by Our Program Assistance Provider. (An unscheduled return by the same or like mode of transportation as originally scheduled without additional transportation requirements is not a Medical Evacuation.)  We will pay the Usual and Customary level of charges for Transportation Expense for an emergency Medical Evacuation to the nearest hospital or medical facility where suitable Medically Necessary treatment is available, provided:

Your local attending Physician and We or Our Program Assistance Provider determine that Your condition is acute, severe or life threatening; and
that adequate Medically Necessary treatment is not available in Your immediate area.

If the local attending Legally Qualified Physician and the Program Medical Advisor determine that transportation to a Hospital or medical facility is Medically Necessary to treat an unforeseen Sickness or Injury which is acute or life threatening and adequate Medical Treatment is not available in the immediate area, the Transportation Expense incurred will be paid for the Usual and Customary Charges for transportation to the closest hospital or medical facility capable of providing that treatment.
In summary, Emergency Medical Evacuation moves you from the point of injury or illness to the closest hospital, if necessary, to the nearest hospital that is best equipped to treat the medical emergency, then back home for further treatment. Evacuation must be medically-necessary, ordered by a physician, and agreed upon and arranged by the Travel Insurance provider.
Medical Evacuation comes in many different forms. If you're within a city, you might have a ground ambulance transportation. On a cruise ship or in a remote area, a helicopter might come for you. If you need long-distance transport and are well enough to board a commercial flight, you might need an economy class ticket. But if you're in critical but stable condition, the doctor might require a private long-range medical jet outfitted with medical equipment, doctors, and flight nurses to take you home.
Now, let's take a look at a real-life example of when you might use Emergency Medical Evacuation.
Emergency Medical Evacuation – Example
Suppose you are traveling in France, and after a fabulous dinner, you feel chest pain and shortness of breath.
An ambulance takes you to the local hospital emergency room for examination where the physician diagnoses a heart attack. Although the is world-renowned for orthopedic surgery, do not have a cardiologist on staff.
Now, you must be evacuated from that facility to the nearest hospital that does have a cardiologist and a cardiac department. Transportation could be another ambulance ride or a medical flight to another country.
Once you are stable, the physician says you cannot continue your trip, and you need further treatment. Now what? Are you stuck in a foreign country until well? What if you want to see your cardiologist back home?
How do you get home now if you cannot leave the hospital?
Medically Necessary Repatriation
Once you are medically stable and traveling would not put your health at additional risk, you return home or to the hospital nearest your home for further treatment. Returning home for continued treatment is called medical repatriation.
The mode of transportation depends on the severity of the injury or illness. If you're well enough to take a commercial flight, you may travel home with an economy airfare ticket. Or, if critical, you might return home in the flying hospital we mentioned above.
One of the policies reviewed by CruiseInsurance101 states:
"The company will pay for a Medical Evacuation to return You to Your point of origin, Your primary place of residence, or to a hospital or medical facility closest to Your primary place of residence capable of providing continued treatment, if Your local attending Physician and We or Our Program Assistance Provider determine that it is Medically Necessary. "
If you fell in Tibet, hit your head, and injured your ankle, you could be evacuated to a facility for treatment. A day later, the physician says you sprained your ankle and must stay off it for 7-10 days. Follow up tests in 4 days later showed no concussion. The physician says you cannot continue your trip since there is a lot of walking, the terrain is too rough for a wheelchair, and you may need surgery. She recommends that return home for further treatment and recovery. In this case, you would most likely fly back on a commercial airline without the assistance of a nurse. However, since your ankle must be elevated, you may fly first class where there is room to raise your leg.
In the instance of a heart attack, the physician may say that bypass surgery is necessary back home in the US. If the physician can stabilize your condition and certifies that getting you back to the US will not cause further damage, you may be flown home in a medical jet with a nurse and physician on board to monitor your condition and to escort you to the hospital nearest your home.
If you want to receive treatment from a specific hospital that is not the nearest to your home, look for insurance includes Hospital of Choice evacuation benefit.
Hospital of Choice Emergency Medical Evacuation Insurance
Hospital of Choice means you may choose which hospital you want to go to if you are in a facility incapable of treating your illness or injury.
We like hospital of choice, especially for senior travelers who are more comfortable in a familiar setting. Keep in mind, if you are not stable, the hospital will medically evacuate you to the nearest facility that can treat and stabilize you.
Once you are stable enough for travel, you can exercise your right to choose from which hospital you prefer treatment.
Travel Insured International Worldwide Trip Protector emergency medical evacuation insurance states:
Subject to the terms and conditions of the policy, You may choose to be transported to a hospital in a city within the United States of America other than Your primary place of residence, but the maximum amount payable is limited to the cost of transportation to Your primary place of residence.
Therefore, you can receive transportation to any hospital you choose. The hospital of choice could be in your hometown or the Mayo Clinic across the country from your home. However, if the hospital is further away from your home, you will be responsible for the costs incurred from your home to the hospital of your choice.
Some Medical Evacuation plans limit hospital of choice evacuations to anywhere within your home country.
What happens to the traveling companions when a traveler is medically evacuated?
If your traveling companions have comprehensive travel insurance policies, and they do not want to continue the trip without you, they can use their trip interruption insurance benefit to cut their journey short and return home.
If you are the only adult traveling with a minor child, the Emergency Medical Evacuation benefit pays to return the child to the US if you are hospitalized for 3-7 days (depending on the policy you have).
Also, if you were traveling by yourself and hospitalized for 3-7 days (depending on the plan), you can request someone from home come to your bedside, and the Medical Evacuation benefit pays the costs.
Repatriation of Mortal Remains
On occasion, the unthinkable happens, and a traveler may die.
No one can prepare for this type of tragedy, and it is especially hard for traveling companions and family members.
In addition to Emergency Medical Evacuation, trip insurance also includes the repatriation of remains.
One of the trip insurance policies reviewed by CruiseInsurance101 states:
Benefits will be paid for covered Repatriation Expenses incurred, up to the Maximum Benefit Amount shown in the Schedule of Benefits, to return Your body to Your city of primary residence in the United States of America if You die during Your Trip.
In the event of Your death during a Trip, the expense incurred will be paid for minimally necessary casket or air tray, preparation, and transportation of Your remains to Your primary place of residence in the United States of America or to the place of burial.
If you or a traveling companion dies during the covered trip, the policy covers the cost of the casket, preparation of the body, and the cost to transport the body back to the US.
This benefit is listed under the Repatriation of Remains portion of the travel insurance policy and covers up to the limit listed in the schedule of benefits.
Pre-Existing Medical Conditions
A pre-existing medical condition is defined as
"an illness, disease, or other condition during the specified period immediately prior to the date Your coverage is effective for which You  or Your Traveling Companion, Business Partner or Family Member scheduled or booked to travel with You: 1) received or received a recommendation for a test, examination, or Medical Treatment for a condition which first manifested itself, worsened or became acute or had symptoms which would have prompted a reasonable person to seek diagnosis, care or treatment; or 2) took or received a prescription for drugs or medicine.
Item (2) of this definition does not apply to a condition which is treated or controlled solely through the taking of prescription drugs or medicine and remains treated or controlled without any adjustment or change in the required prescription throughout the sixty specified period before coverage is effective under this policy."
All travel insurance policies specifically exclude Pre-existing Medical Conditions from coverage on comprehensive trip insurance plans and travel medical plans. However, some of the travel insurance companies do not apply this exclusion to Medical Evacuation or Repatriation.
In one travel insurance policy reviewed by CruiseInsurance101, you can find the following exclusion:
Coverage is excluded due to a Pre-Existing Condition, as defined in the policy. The Pre-Existing Condition Limitation does not apply to the Emergency Medical Evacuation or return of remains coverage.
We recommend you review your travel insurance documents before purchasing to determine what coverages you have and what you don't have.
Travel insurance policy language can be confusing, so CruiseInsurance101 is available for all of your travel insurance questions. Our team is always available to talk via email, chat, or phone.
Travel Insurance - General Recommendations
Our travel and travel insurance experts recommend several things when buying travel insurance:
At least $100,000 in Emergency Medical coverage if you are traveling outside of the US.
At least $250,000 in Emergency Medical Evacuation.
Purchase travel insurance right after or very soon after placing money on the trip to be eligible for time sensitive benefits such as a Medical Waiver.
Compare travel insurance plans before purchasing to get the best value for your travel needs.
For clarity, time sensitive benefits are only available during the 10-21 days (depending on the policy you choose) after you place your first payment or deposit on your trip. These benefits include the pre-existing medical conditions waiver, Cancel For Any Reason, Cancel For Work Reason, and Interruption For Any Reason.
Will I get a better deal on the policy cost by going to the insurer directly?
No way! We do not increase or decrease rates given to us by the carriers. We can't—no one can—due to strict travel insurance regulations. CruiseInsurance101 guarantees that you will not find a better price on the same plan anywhere.
Have questions? Why don't you email, chat, or call us? We're here for you, and we would love to answer your questions.
Safe travels.
Recent AARDY Travel Insurance Customer Reviews
customer Diane
A young lady name Christiana
A young lady name Christiana, CHRISTIANNA was who helped me she was extremely pleasant, helpful. It was extremely helpful to me to speak to an American who understood English and annunciated English very well thank you.
---
Mian Khan
Always good for travel anywhere...
Always good for travel anywhere...
---
Lisa Rupe
Excellent Customer Service!!
I spoke to Sylvia on the chat and she was able to assist me and answer any questions I had and then she was able to have Miranda call me promptly and go over policy with me and I was able to purchase what I needed. The whole process went easy and smoothly.