Medical Evacuation Travel Insurance - 2023 Review
It's a smart idea to consider Medical Evacuation Travel Insurance for your next trip.
According to the CDC, American travelers most commonly seek medical treatment for cardiovascular events, gastrointestinal illness, or traumatic injury.
Eventually, you need to return home, and if you're in critical condition but stable, your ride home might be very costly.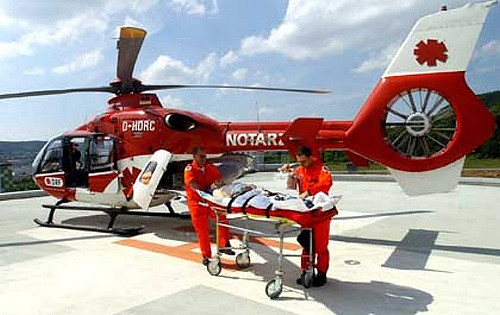 Comprehensive Travel Insurance includes Medical Evacuation benefits that ensure transportation to the best possible treatment center.
If the local hospital cannot adequately treat your injury or illness, Emergency Medical Evacuation moves you to the nearest appropriate facility or returns you home.
Medical Evacuation Travel Insurance
Most people do not realize that Medical Evacuation can be incredibly expensive.
First, it covers your initial transportation from the point of injury or illness to the closest hospital. If you are on a cruise ship or hiking, a helicopter might rescue you. If you are in an urban area, a ground ambulance may evacuate you.
Second, if the transport takes you to a hospital that does not provide appropriate equipment or physicians for your emergency, Medical Evacuation moves you to the closes hospital that does.
Finally, Medical Evacuation repatriates you and makes sure you get home safely for further treatment.
It costs thousands just to have a flight nurse travel home with you in Business class. Imagine a private medical jet flying 6-12 hours across the ocean to bring you back. Now, you're talking hundreds of thousands of dollars. You don't want to be the person writing a check for those bills.
Every comprehensive Travel Insurance plan contains Emergency Medical Evacuation insurance. Fortunately, it is so inexpensive that it's a no-brainer whether to buy it.
As with any insurance agreement, always check the fine print.
If you buy a policy from a travel site like Expedia, they only include a wimpy $15,000 for Medical Evacuation. That isn't enough coverage to safely get you home if you have a traumatic injury that requires medical attention.
At the same time, you can find much better Medical Evacuation coverage if you shop around. It only takes about 2 minutes.
Other Benefits Of Medical Evacuation Coverage
Medical Evacuation insurance also pays for medical services and supplies needed for your transport.
The travel insurance company usually sends a doctor or nurse escort to help you home on a commercial flight. Likewise, if you are in the hospital, they provide a companion to return dependent children home.
If the worst-case happens and a traveler dies on the trip, Medical Evacuation also includes repatriation of remains.
Because of its extensive financial protection, we consider Emergency Evacuation protection necessary for any trip. Happily, Medical Evacuation insurance is not expensive.
Cruise Insurance 101 chose to partner with insurers that deliver world-class support when these circumstances occur.
We always recommend that you consider travel insurance. It's easy to get an anonymous quote in seconds and compare dozens of the top travel plans from many of the largest US travel insurers. You will save time and money finding the right travel plan for your needs.
You won't see the same trip insurance plans available at a better price. Pricing is highly regulated, and the US has consumer protection anti-discriminatory laws.
Travel Insurance Comparison – Will I Pay More Buying Travel Insurance from a Comparison Website?
No, it won't save you money.
Cruise Insurance 101's prices are the same as from the insurance carrier direct. We are not allowed to compete on price for 'filed' insurance products. No one is. You will get the best value from us.
Safe travels.
Recent AARDY Travel Insurance Customer Reviews
Valued Customer
Nicole was very helpful
Nicole was very helpful. She answered all my questions and even pointed out some areas that I needed to be aware of. The whole process took less than 10 minutes
---
Cindy Pritchard
All of my questions were answered so…
All of my questions were answered so well George was so patient with all I asked. Would never hesitate to call him again.
---
Ghard
Glad I called
This was my first experience booking a cruise. Since I didn't know anything about insurance, I had a lot of questions! Miranda was well spoken and explained all the important information about the insurance coverage for my cruise. She used examples to illustrate why I might need coverage. She was easy to understand.