Travel Health Medical Evacuation Insurance - 2023 Review
Travel Health Medical Evacuation Insurance. Rhett J. Stoney at CDC has written an excellent article highlighting the differences between these three different types of Travel Insurance - Travel Insurance, Travel Health Insurance, and Medical Evacuation Insurance.
We reproduce the article in full below with minor edits.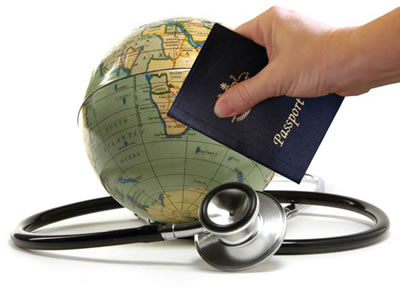 Severe illness or injury abroad may result in a financial burden on travelers. Although planning for every possible contingency is impossible, travelers can reduce the cost of a medical emergency by considering the purchase of a specialized insurance policy for their trip, regardless of whether or not they have a domestic health insurance plan. There are three types of policy: travel insurance, travel health insurance, and medical evacuation insurance. These insurance policies can be purchased before a trip to provide coverage in the event of an illness or injury. A policy may be of particular importance to travelers with chronic medical conditions. Basic accident or travel insurance may even be required for travelers with certain itineraries. For example, cruise ships have medical staff on board, but treatment may not be included in passengers' ticket costs. In this case, those traveling by cruise ship may want to consider a specialized insurance policy.
DOMESTIC HEALTH INSURANCE AND OVERSEAS TRAVEL
Some health insurance carriers in the United States may cover emergencies that occur while traveling abroad. Travelers should examine their coverage and itinerary to determine which medical services, if any, will be covered abroad and the level of supplemental insurance needed. The following is a list of characteristics to consider:
Exclusions for treating exacerbations of preexisting medical conditions
The company's policy for "out-of-network" services
Coverage for complications of pregnancy (or for a neonate, especially if the newborn requires intensive care)
Exclusions for high-risk activities such as skydiving, scuba diving, and mountain climbing
Exclusions regarding psychiatric emergencies
Exclusions for injuries relating to terrorist attacks, acts of war, or natural disasters
Whether preauthorization is needed for treatment, hospital admission, or other services
Whether a second opinion is required before obtaining emergency treatment
Whether there is a 24-hour physician-backed support center.
PAYING FOR HEALTH SERVICES ABROAD
Medical care abroad usually requires cash or credit card payment at the point of service, regardless of whether the traveler has insurance coverage in his or her home country. Additionally, the existence of nationalized health care services in a given destination does not ensure that nonresidents will be covered. This could result in a large out-of-pocket expenditure of perhaps thousands of dollars. A discussion of insurance options is an important part of any pretravel consultation. In addition to covering costs of treatment or medical evacuation, the travel health insurer can also assist in organizing and coordinating care and keeping relatives informed. This is especially important when the traveler is severely ill or injured and requires medical evacuation. Although all travelers should consider insurance, it is particularly important for travelers who plan extended travel outside the United States, have underlying health conditions, or plan to participate in high-risk activities on their trip, especially if the destination is remote or lacks high-quality medical facilities. Regardless of which insurance option (or options) is (are) selected for a trip, when paying out-of-pocket for care overseas, travelers should obtain copies of all bills and receipts and, if necessary, contact a US consular officer, who can assist US citizens with transferring funds from the United States.
TRAVEL INSURANCE
Travel insurance protects the financial investment in a trip, including lost baggage and trip cancellation. Travelers may be more likely to avoid travel when sick if they know their financial investment in the trip is protected. Depending on the policy, travel insurance may or may not cover medical expenses abroad. As such, travelers need to carefully research the coverage offered to determine if additional travel health and medical evacuation insurance is needed.
SUPPLEMENTAL TRAVEL HEALTH AND MEDICAL EVACUATION INSURANCE
Travel health insurance and medical evacuation insurance are both short-term supplemental policies that cover health care costs on a trip and are relatively inexpensive. Many commercial companies offer travel health insurance, which may be purchased separately or in conjunction with medical evacuation insurance. Frequent travelers may consider purchasing annual policies or even policies that will provide coverage for repatriation to one's home country.
Although travel health insurance will cover some health care costs abroad, the quality of care may be inadequate. As such, medical evacuation from a resource-poor area to a hospital where definitive care can be obtained may be necessary. The cost of evacuation can exceed $100,000. In such cases, medical evacuation insurance would cover the cost of transportation to a facility where adequate care can be provided. Medical evacuation companies may have better resources and experience in some parts of the world than others. Travelers may want to ask about a company's resources in a given area, especially if planning a trip to remote destinations. The traveler should scrutinize all policies before purchase, looking for those that provide the following:
Arrangements with hospitals to guarantee payments directly
Assistance via a 24-hour physician-backed support center (critical for medical evacuation insurance)
Emergency medical transport to facilities that are equivalent to those in the home country or to the home country itself (repatriation)
Any specific medical services that may apply to their circumstances, such as coverage of high-risk activities.
Even if an insurance provider is selected carefully, travelers should be aware that unexpected delays in care may still arise, especially in remote destinations. In special circumstances, travelers may be advised to postpone or cancel international trips if the health risks are too high.
FINDING AN INSURANCE PROVIDER
The following resources, although not all-inclusive, provide information about purchasing travel health and medical evacuation insurance:
Department of State (www.travel.state.gov)
International Association for Medical Assistance to Travelers (www.iamat.org)
American Association of Retired Persons (www.aarp.org) (for information about Medicare supplement plans, see below).
SPECIAL CONSIDERATIONS FOR TRAVELERS WITH UNDERLYING MEDICAL CONDITIONS
Travelers with underlying medical conditions should discuss any concerns with the insurer before departure. In a study of international travelers with travel health insurance claims, only two-thirds of claims were fully met. Preexisting illness and poor documentation were the main reasons for refusal. Travelers with medical conditions should choose a medical assistance company that allows them to store their medical history before departure, so it can be accessed anywhere. Travelers should carry a letter from their health care provider listing their medical conditions and current medications (including their generic names), written in the local language if possible. Those with cardiac disease should carry a copy (paper or electronic) of their most recent ECG. They should also pack all medications in their original bottles, checking beforehand with the destination's embassy to ensure that none are considered illegal in the destination country.
SPECIAL CONSIDERATIONS FOR MEDICARE BENEFICIARIES
The Social Security Medicare program does not provide coverage for medical costs outside the United States, except in limited circumstances. Some Medigap (Medicare supplement insurance) plans may provide limited coverage for emergency care abroad. As with all travelers, Medicare beneficiaries should examine their coverage carefully and supplement it with additional travel health insurance, as needed.
CHECKLIST FOR DISCUSSING INSURANCE WITH TRAVELERS
The following checklist can guide an insurance discussion before travel.
Before travel:
Scrutinize the traveler's domestic health insurance policy to see what medical services may or may not be covered abroad.
Consider travel, travel health, and medical evacuation insurance.
Locate medical services in areas that the traveler plans to visit and carry this information with them on their trip.
During travel:
Carry copies of insurance policy identity cards, including any supplemental insurance purchased for a trip, and insurance claim forms.
Retain copies of all bills and receipts for medical care received abroad.
TRAVEL HEALTH MEDICAL EVACUATION INSURANCE BIBLIOGRAPHY
American Association of Retired Persons, Education and Outreach. Overview of Medicare supplemental insurance. Washington, DC: American Association of Retired Persons; 2010 [cited 2016 Mar. 8]; Available from: https://www.aarp.org/health/medicare-insurance/info-10-2008/overview_medicare_supplemental_insurance.html.
Centers for Medicare and Medicaid Services. Medicare coverage outside the United States. Baltimore: CMS; 2016 [cited 2016 Mar. 8]; Available from: www.medicare.gov/Pubs/pdf/11037-medicare-coverage-outside-united-stat.pdf.
Leggat PA, Carne J, Kedjarune U. Travel insurance and health. J Travel Med. 1999 Dec;6(4):243–8.
Leggat PA, Leggat FW. Travel insurance claims made by travelers from Australia. J Travel Med. 2002 Mar-Apr;9(2):59–65.
Teichman PG, Donchin Y, Kot RJ. International aeromedical evacuation. N Engl J Med. 2007 Jan 18;356(3):262–70.
US Department of State. Insurance Providers for Overseas Coverage. Washington, DC: US Department of State; 2016 [cited 2016 Sep. 22]; Available from: https://travel.state.gov/content/travel/en/international-travel/before-you-go/your-health-abroad/insurance-providers-overseas.html.
Recent AARDY Travel Insurance Customer Reviews
Valued Customer
Nicole was very helpful
Nicole was very helpful. She answered all my questions and even pointed out some areas that I needed to be aware of. The whole process took less than 10 minutes
---
Cindy Pritchard
All of my questions were answered so…
All of my questions were answered so well George was so patient with all I asked. Would never hesitate to call him again.
---
Ghard
Glad I called
This was my first experience booking a cruise. Since I didn't know anything about insurance, I had a lot of questions! Miranda was well spoken and explained all the important information about the insurance coverage for my cruise. She used examples to illustrate why I might need coverage. She was easy to understand.